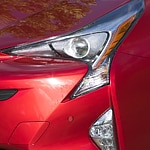 This article reviews the Toyota Prius exterior.
Exterior colors and wheels

The new 2021 model Toyota Prius has high technology combination of colors with electric storm blue or supersonic red. It also adds an allure of moonstone, which is of high technology, to its interior. The wheels are made of great design in its alloy design.

Handling

Toyota Prius turns corners and heads in style. It has a low stance, active grill with dynamic style, and iconic looks, which gives an aerodynamic efficiency.

Read More