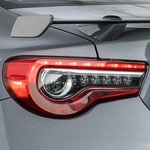 When owning a popular sports car is on your must-do list, you can cross it off after choosing the new Toyota 86 as your own. This powerful and visually appealing sports car has the interior features that make you want to drive it continuously. Find out what these features are and why they appeal to serious sports car buyers like you.
What would any sports car be without its stereo system? Of course you want to crank up your favorite tunes while cruising through town or on the freeway. This particular model from Toyota has an eight-speaker stereo system with innovative Clari-Fi technology that fine tunes your music and lets you get the best listening experience.
It also has a push button start so you no longer need to dig out your key from your pocket. You simply press on the brake pedal while pushing the start button to get your 86 going.